COMBS, TENNANT & CARPENTER, P.C. reached out to discuss their desire to redesign their website. At the time, their website was unfinished and needed additional content and focus.
After meeting with the client, central themes about this local accounting firm emerged:
The firm is locally based and connected to the community on a professional and a personal level. This warmth and connectivity is reflected in the site design

Relationship between the firm and their clients reflects "you're not in this alone" kind of feeling

Content is easy to understand and conversational, but still adheres to industry rules and regulations applicable to the accounting industry

Team members are the firm's greatest asset - they're approachable and knowledgeable. This is strongly reflected in the mission statement which ultimately became the guide for the overall theme and feel of the website
In creating their site map and a plan of action for content, it became clear the personal impression you get from working with CTC should come across in their website. They are approachable, professional, and knowledgeable, not cold or corporate automatons! I speak from personal experience when I say they are really great to work with!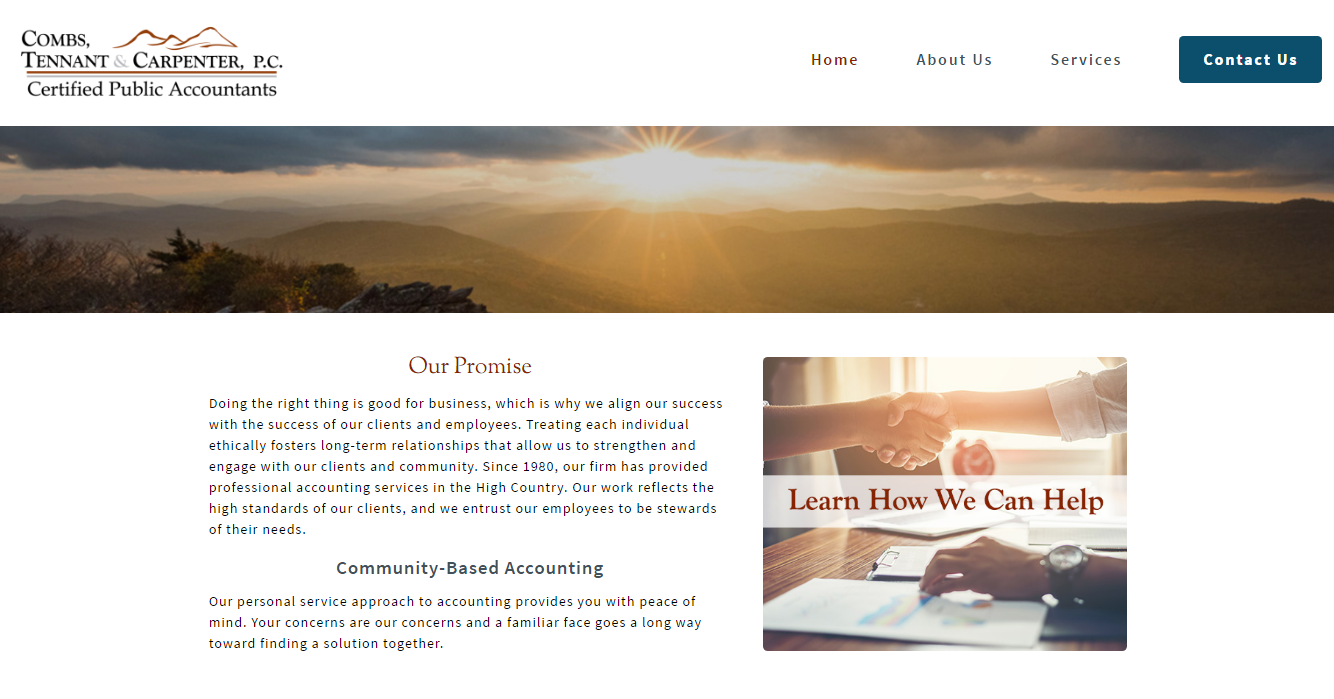 Warm and inviting, with clear calls to action
Getting the right head shot to present staff members on a website can be tricky. Thankfully, CTC had a long-standing relationship with Mary Beth Hege who captured staff members' warm personalities perfectly!
We also wanted to use local images from the High Country area, especially since CTC has offices in Boone and Newland. We reached out to Sallie J. Woodring Photography to license the beautiful landscape photography on the page banners of the website.
Mobile Responsiveness
A key component to websites today is making sure your website is responsive to mobile devices (cell phones and tablets)! In November of 2016, ZDNet published an article stating mobile and tablet internet usage had surpassed the desktop for the first time (51.3%).
Not all mobile responsiveness is created equal either. Squarespace provides scaling without making the site, text, or images tiny. Have you looked at your website on a mobile phone lately?
Testimonials
Perhaps the strongest element of the website is the wealth of client testimonials CTC were able to add from their clients. Clearly they have a happy clientele!
Future Blog/News Section
The Squarespace template chosen for their website will be easy to integrate a future blog or news section if they ever wish it. It's great to have flexibility!
Easy to Update
One thing I stress to my clients is the ability to access your own website and make simple changes to it when you need to. Modern day platforms like Squarespace make this task an easy one to accomplish. Plus, you can add users with different levels of permissions to protect your website from "big mistakes" like deleting pages, etc.
If a client decides making updates to their own website is not the highest and best use of their time, then they can rely on Your Favorite Assistant to make changes on their behalf. It's a win-win situation that's available on demand and can fit any budget!
Do You Need a Website?
Contact me to see if a Squarespace website is the right fit for you! If it's not a great fit, I can make recommendations for designers you can contact, and what to expect and look out for.